In his introduction to A House That Made History, designer Michael Smith describes Governor JB Pritzker and First Lady MK Pritzker as a "dynamic and deeply engaging" couple. Their longtime friend is spot-on, as our community discovered with Mrs. Pritzker at PAGODA RED as she signed copies of her new book with Rizzoli. A House that Made History is a beautiful look at her work with Smith to update the Illinois Governor's Mansion, a Greek-Italianate revival home built in 1855. Her interest in meaningful design, respect for history, and support of local, independent businesses resulted in a home that reflects all of these values and is a true gift to the people of Illinois.
We've followed the recent evolution of the mansion with interest, since the previous First Lady, Diana Mendley Rauner, addressed a multitude of issues and also landscaped the grounds. We were thrilled when Mrs. Pritzker and Michael S. Smith continued with restoration and chose a selection of Chinese porcelain from PAGODA RED as finishing touches throughout the home.
As Mrs. Pritzker noted, her priority was a stylish celebration of Illinois history. This is evident in every room, from nods to 20th-century interior designer Frances Elkins to artifacts from the Lincoln administration to works by artists including Gertrude Abercombie and David Klamen. The home is rich with Illinois symbolism, art, artifacts, and stories. Pritzker and Smith's use of Asian porcelain reflects the state's multicultural history while drawing the eye to the mansion's outstanding antiques. Throughout, a variety of baluster jars, vases, and ginger jars show why Chinese porcelain is found in historically significant homes across the world. These porcelain works of art have a timeless appeal and an uncanny ability to unify eclectic collections.
The first family's living room features exquisite wallpaper paired with selections from PAGODA RED. The dramatic vase on the coffee table is inspired by a meiping vase traditionally designed to hold plum blossom branches. Its blue-grey glaze and hand-painted branches pair elegantly with the sepia trees on the walls. Mrs. Pritzker noted how she loved the way its unusual color glaze reflected the depth of the wall color. On an antique side table, winding blue vines on a ginger jar complement the gracious arms of the dove blue sofa and the trim on a floral armchair.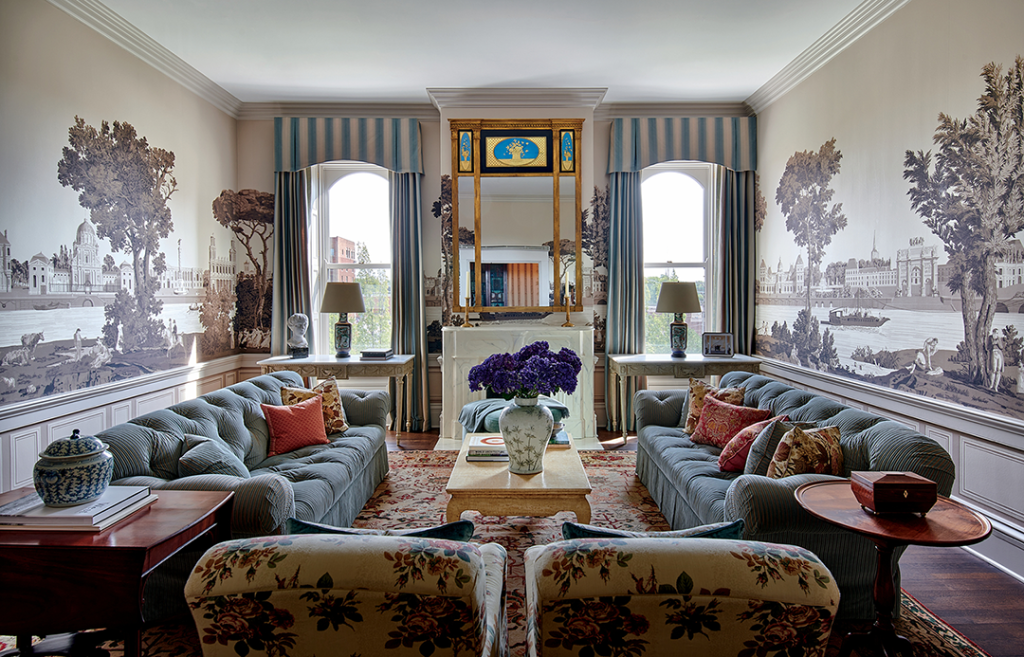 The walls in the dining room table were hand-painted with a historic Illinois landscape circa 1890 by Simes Studios, our neighbors in Bucktown. The table is set with a complementary blue and white ginger jar with trailing vine motif. Cindy and Jorge Simes joined us to celebrate the book.
Pritzker writes that rooms designed by Smith are "like getting a hug. They are comfortable, but also correct and proper." As we chatted with Mrs. Pritzker, it became clear that she too shares this vision for creating welcoming spaces. Even better, we realized that she, Smith, and all of us at PAGODA RED have a similar design goal: the thoughtful, aesthetic use of antiques to create livable spaces for modern times.
Thank you to MK Pritzker for joining us at the gallery and to her and Michael Smith for choosing so many beloved pieces from PAGODA RED for the Governor's Mansion. A House that Made History is truly worth celebrating.