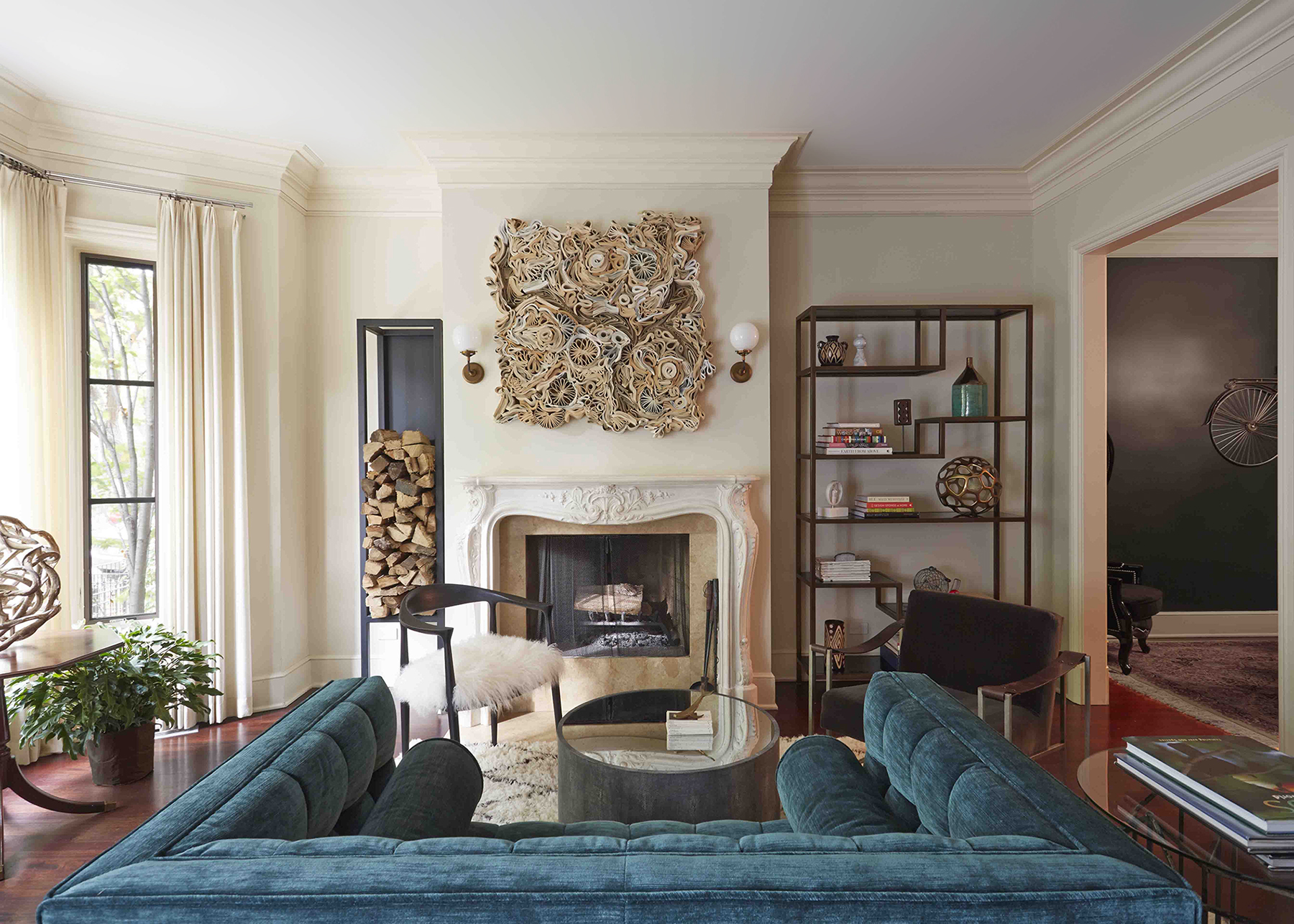 Emily Mackie: The Design Whisperer
According to Emily Mackie of Inspired Interiors, the design world is full of people who are skilled at making things pretty. Though the spaces Emily creates are certainly beautiful, she and her team have loftier goals in mind.
"What we try to do is create spaces that emotionally resonate with people," she explains. "Spaces are emotionally memorable because they connect with you for a reason. Think about your favorite ice cream place, or your favorite place to shop for a dress… the space is interacting with you on a higher level and you don't even know why." The secret to bringing that magic into a residence, says Emily, is to design rooms that engage the senses.
Emily acknowledges that her approach takes time and is far from one-size-fits-all. "It's almost like dating," she says. "It requires a lot of intuition, and really listening to someone—listening to what their life is like, and what they do and do not want to be doing with their time. What makes them tick? What do they value?"
"We really pride ourselves on creating atmospheres that people interact with, that are non-static, where nothing looks like a hotel room," says Emily. Her process helps clients hone their own style, rather than attempting to emulate someone else's. With the company tag line, "Dare to Live," it should come as no surprise that her firm aims to help clients embrace and celebrate their truest selves.
Growing up in Texas, Emily's design education started early, thanks to her stepmother—an importer of French and English furnishings. "I love furniture with soul," says Emily. "I love things that have meaning." Though it may seem counterintuitive, Emily maintains that a meaningful antique can be a more affordable long-term buy than a lower-cost contemporary piece, as it will move with you through every phase of life. "Maybe your buy-in is at a higher dollar amount," she says, "but it's going to stay around a whole lot longer because it has so much more meaning."
Recently, Emily was a featured designer for the fourth annual "Dreaming of Design" event hosted by River North Design District and Chicago Luxury Beds. Her installation featured a wall of breast-imprint paintings of prominent Chicago women—later sold to benefit The Susan G. Komen Foundation.
A desire to work exclusively with women-owned businesses on the project led Emily to PAGODA RED. From the collection, Emily selected several storied pieces for her vignette. One such item, a Ten-Drawer Altar Coffer (below), became the anchor for a morning meditation space. A Coil Pickling Pot and Bamileke Earth Spider Stool are transformed into a koi fountain.
"The area was meant to tantalize the five senses," explains Emily. A tactile meditation mat lay beneath, fragrant teas fill the table drawers, fresh gardenias hang overhead, two PAGODA RED Chrysanthemum Stones rests atop, and Sarah Raskey's dynamic artwork, ablaze with illuminated crystals, float above.
"I personally want to recreate this in my own home," says Emily. "It really says something about owning the time and space in your day to recharge." While the centerpiece of the installation was a sumptuous bed surrounded by artwork, Emily tucked the meditation vignette, right behind. "I thought, lets not just have a bed, nightstands and lamps, says Emily. "Let's also find a good place to celebrate who we are as women."
Hero shot: A greystone remodel by Inspired interiors. Photo: Dustin Halleck.
Are you an architect or designer with a story to tell?
Register with us to receive exclusive discounts and benefits, plus free shipping on your first order. Trade professionals are also eligible for collaborative features on our blog and social media channels. Please note that trade registration with PAGODA RED is only open to interior design and architecture professionals.