Vintage architectural elements might not make the top of every renovation resource list, but for those who want their space to tell a story, they should. Antique materials bring a higher level of quality, craftsmanship and authenticity to a project. Plus, they're already proven to weather well. Whether using a 19th century door for its original purpose, or tiling a wall in Chinese ceramic roof shingles, designers inspire us by bringing together ancient and modern elements in kitchens, baths, interiors and gardens. Here are a few of our favorite antique materials, used in surprising new ways.
Vintage Roof Tiles
When designer Mick De Giulio created the Abt Inspiration Studio, he used 19th century handmade ceramic roof tiles from PAGODA RED to create a textured wall opposite the modern kitchen cabinets. The unique patina and pattern warm up the streamlined design. In his own words:
Combining old and new creates a texture that makes a kitchen unique. I think of it as creating a dissonance — and sometimes a tension — in the space. When combining, I think about proportion as well as form, balance and composition. There is no right or wrong to an idea. If it feels right, it is right.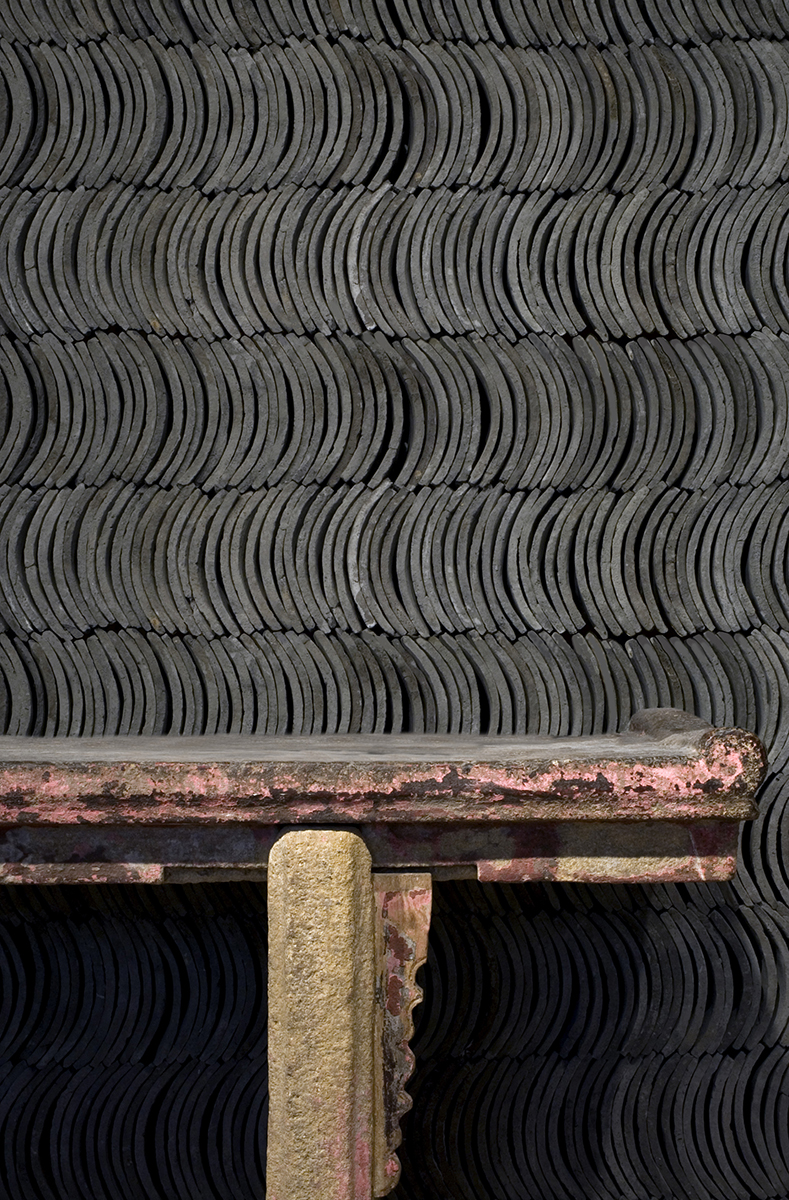 Made from ceramic that was originally crafted to stand up to weather and wear, roof tiles work well in kitchens, bathrooms and entryways. These practical, putty-colored tiles have long been a staple of Chinese building. Since ancient times, homes, government buildings, and temples in cities and rural areas alike were covered in tiles like these.
Indoors and out, the possibilities for using reclaimed roof tiles are endless. At PAGODA RED, they form a new kind of walkway. Framed by a wooden bed, the roof tiles create patterns punctuated by gravel. They can also be used in the garden to build edges, dividers and retaining walls.
Vintage Screens & Doors
Chicago-based interior designer Anthony Michael loves to use antique Asian pieces in contemporary contexts. In a high-rise home he designed for a client, Michael used 19th century antique doors from PAGODA RED to make the most beautiful closet we've ever seen. He explains:
In this installation, we're concealing an unsightly closet. It's the first thing one sees upon entering the residence. We wanted the homeowner to be greeted with a stylish, functional architectural element. I love using found or architectural items in an unique way. It gives an installation interest, while bringing a bit of the past into today's lifestyle.
The right door can make any basic closet, bar or alcove into a room's main attraction. Antique Asian screens and doors are particularly well-suited to modern spaces, since the wood tones and handcarved details warm up a space without sacrificing clean lines and a contemporary aesthetic.
Antique doors and screens also make ideal room dividers, either attached to sliding door hardware or fixed in place. Chinese courtyard doors were often made with lattices that allow light to filter through while still creating privacy. The shadows cast by light filtering through a lattice are unlike any other. Living with these doors, you come to understand their unmatched ability to transform a room.
Antique Stone & Sculpture
Sculptural objects are often collected and displayed inside homes, but it's rarer to find collectors of outdoor art. Those who do collect stone sculpture understand that nature is the best collaborator, and that gardens are the best galleries. Landscape designer Keith Williams explains how impactful art can be outdoors:
I love art, and I especially love it in the garden. I think size and scale are extremely important. You're less restricted to scale outdoors than indoors, but I feel art should be an unexpected surprise and really create a balance in the landscape.
This terrace by architect Suzanne Lovell is an ideal example. Under a pergola and enclosed by trellises, the outdoor space has the intimate feel of a living room. A cluster of Chinese lanterns gives the terrace a warm glow, and antique stone pieces lend it a sense of permanence. Lovell says:
An east-facing lava stone Bodhisattva keeps watch over the house's spirit from the rear terrace. Various elements create the sense of a true and sheltering, if pleasantly porous, room in what had been open space.
PAGODA RED's own garden is an exhibition area for sculptures, stones and architectural features. Stone fu dogs guard the space, antique planters hold beds of flowers and greenery, and stone posts demarcate different zones. Paired with simple gravel paths and bamboo fencing, ancient artifacts ground the garden and create its rich, storied sensibility.
Are you an architect or designer with a story to tell?
Register with us to receive exclusive discounts and benefits, plus free shipping on your first order. Trade professionals are also eligible for collaborative features on our blog and social media channels. Please note that trade registration with PAGODA RED is only open to interior design and architecture professionals.