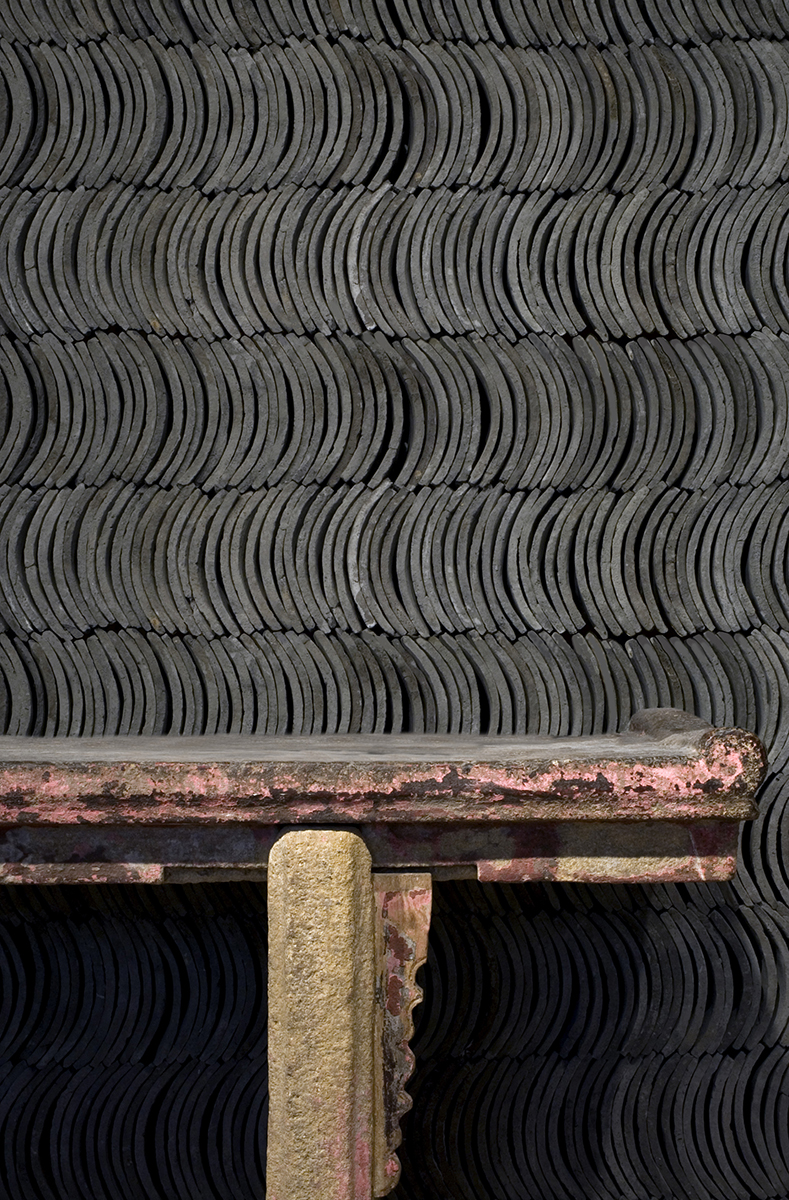 Ceramic roof tiles have been used in China for thousands of years. Practically, they're long-wearing, water-resistant, fireproof, and they can be stacked in endless combinations. Symbolically, they're associated with dragon's scales—auspicious talismans used to control water, rain, typhoons, and floods.
In Longsheng, an area in Guangxi Province that translates into "dragon's spine," ancient rice terraces wind along mountain slopes like a coiled green dragon. There, traditional Chinese roofs are covered in thousands of ceramic tiles, layered one on top of the other over the years. The curved tiles, unique to ancient Chinese architecture, are formed with clay on top of a round wooden mold, then cut to create each gently sloped shape.
In countrysides around China, we've collected the tiles for their beauty and versatility, indoors and out. Reclaimed from 19th century Chinese courtyards, this limited lot of antique ceramic tiles are well weathered. Handmade, their sizes vary, with each measuring approximately 6 x 8 inches.
Throughout Asia, designers are exploring modern applications for antique tiles. Japanese architect Kengo Kuma used vintage ceramic roof tiles to create a series of light-filtering screens for the China Academy of Art Museum in Xiangshan. At the luxury Puli Hotel in Shanghai, vintage ceramic tiles are stacked to create textured walls, and interior screens are inspired by the dragon-scale shape.
We've used the tiles to create screens, borders, walkways and walls in the PAGODA RED gardens and galleries. They're a joy to work with. Stacked and layered, they add depth and dimension to gardens and architectural installations.
For a behind-the-scenes look at collector Betsy Nathan's exploration of Longsheng and traditional Chinese architecture, read Architectural Digest's piece, How a Life Abroad Influences This Designer's Work, and if you're still searching for installation inspiration, see How to Renovate and Decorate with Antique Architectural Elements on the PAGODA RED blog.
All images copyright PAGODA RED.