Finding Sacred Space in Chicago's West Loop
Located at 400 North Morgan in Chicago's Fulton Market neighborhood, PAGODA RED is a retreat from the surrounding city. Passing through a simple, raw steel gate, you step into our courtyard, where you're transported to another world. Stone paths lead you into a garden filled with mature trees, ancient artifacts and thoughtful plantings. The garden is quiet, calm and peaceful. Through a covered walkway hung with lanterns, you enter our gallery. Welcome. Let us show you around.
Greeting Guests with Good Wishes
Inspired by classical Asian gardens but designed with a modern sensibility, our entrance uses lattice screens to separate space while preserving views and allowing sunlight to filter through. In Chinese design, courtyards are the literal and figural heart of a space. Ours is adorned with scholar's rocks, ceramic vessels and stone markers that represent prosperity and harmony. It's our way of greeting guests with respect and good wishes for their wellbeing.
Creating an International Community
As you enter, the first thing you see is our artist's gallery. Here, we feature rotating exhibits by contemporary artists, sculptors and designers. An international gallery, we represent talent from the United States, China, Japan, Israel, Spain and many other countries. We also foster a diverse community of collaborators, including fashion designers, chefs, architects, interior designers, landscape designers, and artists.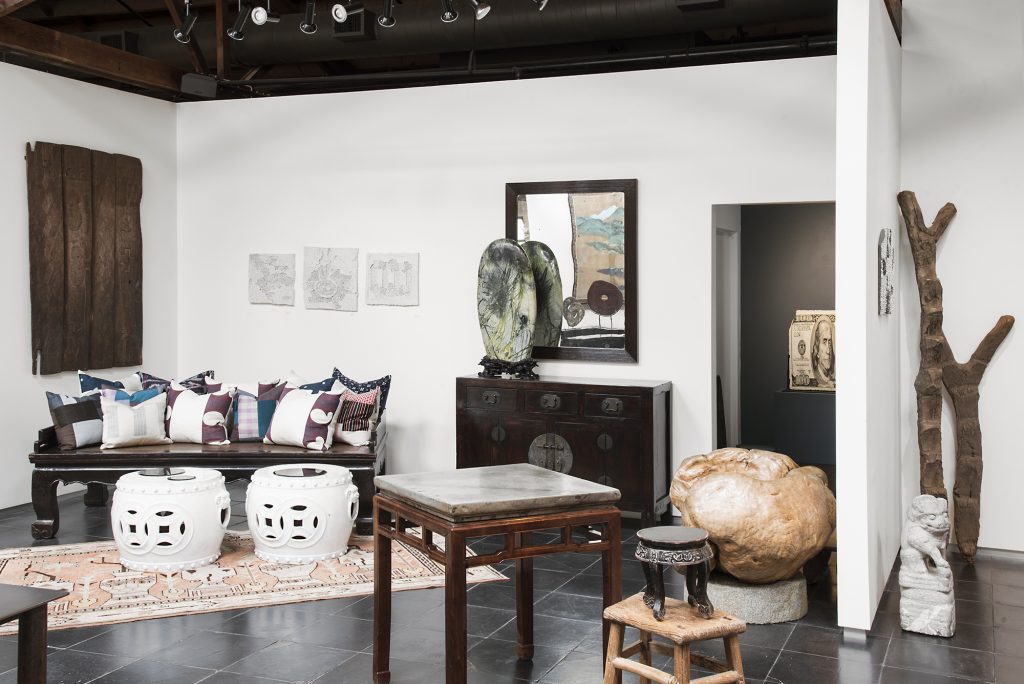 Seeking Balance by Design
Our space is influenced by the belief — shared by world philosophies including Confucianism, Taoism, Buddhism and many Western practices — that balance can be achieved through the coupling of opposites. Within the gallery, you see this balance in the pairing of dark floors with light walls, hard stone with soft textiles, and ancient craft with modern design.
Understanding Color's Elemental Power
Color is also carefully considered. In Chinese design, color corresponds to metal, fire, water, wood and air. Harmony requires integrating the elements. A Japanese byobu screen from the 1970s in watery tones contrasts with two fiery cinnabar vases (c. 1900) and an earthy carved wood Chinese coffer (c. 1850).

Mixing Ancient with Modern
We love giving new life to old objects. Here, a green glass fisherman's float (c. 1900) becomes a luminous sculptural sphere, and a carved bench from the Qing Dynasty (c. 1850) has just-the-right proportions for a modern entryway or hall. A contemporary painting by Chinese-born artist Ren Hui creates a dialogue between present and past.
Bringing the Outdoors In
We strive to do everything with respect for nature. Indoors, we use the same principals — and sometimes the same materials — as we do in the garden. A lattice screen, created from vintage roof tiles, allows light to enter the corner of a washroom while preserving privacy. Again, ancient and modern mix, with a porcelain pendant by Chinese artist Xie Dong and a kite by American artist Michael Thompson.
We Welcome All
Stop by any time. We've designed our space to be a welcoming respite for anyone who enters. We're happy to give you a tour, introduce you to the objects, and we're also happy to just let you be.