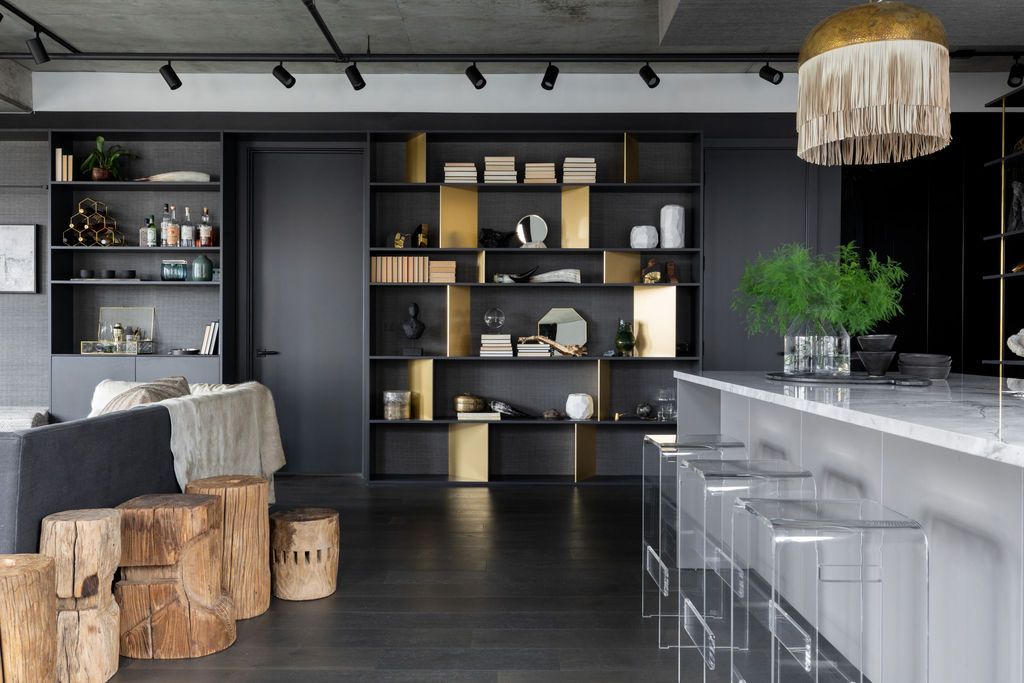 The most stylish homes evolve and change — even when they've been designed beautifully from the beginning. Owners Melissa and Ken Erke were thrilled when PROjECT Interiors completed their West Loop home, full of modern lucite, marble, and metal details. Later, the finished space got an unexpected twist when PROjECT added PAGODA RED reclaimed beam tables for a magazine photoshoot — a twist that lead to a chic and lasting change.
In a conversation with PAGODA RED, founder Aimee Wertepny and design director Lauren Warnock, who was the lead designer on the project, share how the tables became an integral part of the loft.
Lauren says, "We actually loaned out the PAGODA RED pieces for the photoshoot staging and the clients ended up wanting to keep them after seeing how naturally they fit into the space. These beautiful organic stumps are quiet yet statement pieces — and that's exactly why they fit perfectly in this space." The photoshoot, done for a feature in Modern Luxury Interiors Chicago magazine, illustrates just how well this unusual pairing works.
Aimee notes, "This mashup of glam-meets-grit is part of PROjECT's signature aesthetic and penchant for rule-breaking design." For the rest of us, PROjECT's rule-breaking is a good reminder to experiment with juxtapositions — perhaps by pairing a Chinese Heartwood stool with a sculpture painting by Cleveland Dean or by tucking a 19th-century Round Stump Table next to a low-slung platform bed. As we move toward a more eco-friendly future, these contrasts can also highlight the artful use of organic and reused materials.
"At PROjECT, we have a deep-rooted belief in storytelling, radical craftsmanship, rough edges and flipping the script, so there's nothing better than having a space where we can juxtapose sleek, modern architecture with raw, organic elements," states Aimee.
Of course, this belief is shared by PAGODA RED, where we agree that the most memorable homes have objects and art that tell stories, while reflecting their owner's style.
For Lauren, "Natural, organic materials definitely provide a sense of tranquility, and they can almost connect you to Earth and nature, especially in the urban jungle landscape of a luxury condo building in Chicago's West Loop. For this particular space, we wanted to infuse warmth and luxe touches to really make it feel like a home — and pieces like the PAGODA RED reclaimed stumps helped us achieve that goal."
It's a goal that's well worth aspiring to, from a home that showcases how luxe touches, unique pieces, and warmth can create an incredible design mix.
Read the Modern Luxury article here
Images: Aimée Mazzenga for PROjECT Interiors
Shop the Story
Are you an architect or designer with a story to tell?
Register with us to receive exclusive discounts and benefits, plus free shipping on your first order. Trade professionals are also eligible for collaborative features on our blog and social media channels. Please note that trade registration with PAGODA RED is only open to interior design and architecture professionals.